Welcome to Interstellar Space Sounds Premiere Issue. We hope to expand as we progress, and one day take over the world.
The stuff on here will come from a variety of sources: some I'll write myself, some will be written by friends, etc.

Sign my guestbook at the bottom of the screen or send e-mail to let me know what you think (or to contribute articles or ideas). I'll be updating frequently, so check back often!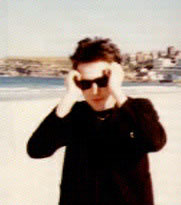 The Cure's Robert Smith - standing on a beach. Ironic, no?